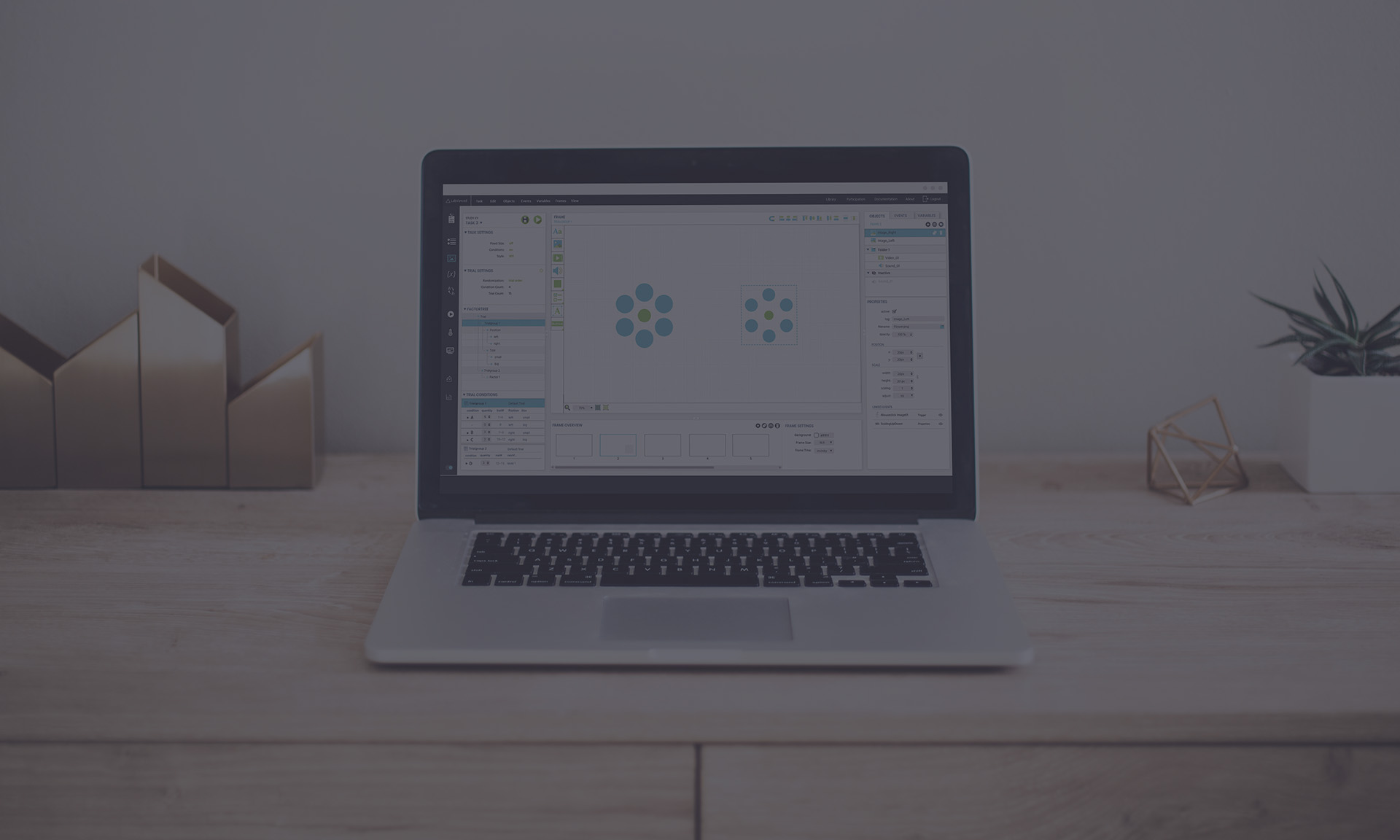 Accurate
Reaction Times
Intuitive
Study Builder
100's of
Templates
What is Labvanced?
The most innovative cloud solution for professional web based experiments!
Used by top tier Universities:
Harvard University

Northwestern University

University College London

Technical University Berlin

Ben Gurion University

Chinese Univ. Hongkong
Create Experiments
Simple Design, Complex Behavior.
Intuitive Interface
Event System
Questionnaires
Templates & Sharing
Randomization
Translation
Our graphical interface allows you to create your professional online experiments easily without having to write a single line code. What makes us unique is that our approach is as powerful as a state of the art programming language, but at the same time it is easy to learn and use. You can integrate very powerful and interactive event logic using the event system. Here you just define a trigger (e.g. mouse, keyboard, video, or variable change) and then determine what should happen in one or several actions (jumping to the next task or trial, change of a stimulus property, recordings etc.) Besides the canvas frame on which you can freely place and modify any content, there is a Page Frame specialized for questionnaires. Required answers, item randomization, and page navigation elements will help you to create powerful and beautiful questionnaires only within a few minutes. Our experiment library provides you with over 50 behavioral studies and famous questionnaires. You can import and make use all of these templates to accelerate your experiment implementation. Also, you can share your study to make it easier for others to reproduce your results. Our experiment editor has various options to implement within-subject and between-subject randomization techniques. You can choose between different options to balance your experimental factors, make adaptive designs, upload an individual trial sequence and much more. Automatic text translation of your experimental content will make it easy for you to reach a global participant pool for your study.
Record Data
Use crowdsourcing and local recordings.
Data Collection
Crowdsourcing
Recording Techniques
Precision
Compatibility
Use our open experiment library ro recruit your participants or directly invite them via Email using individualized links. You can also share the links on social media platforms like Facebook and Twitter. Our platform is connected to crowdsourcing platforms with over 7 Million registered participants worldwide. You can use or Labvanced Crowdsourcing Service so that we find the participants for you, or you can connect your study with your own crowdsourcing accounts. With our platform you can record any mouse and keyboard input and record precise reaction times. Also, we offer to record eye tracking via webcam, and voice recordings via the paticipant's microphone. All the experimental stimuli are presented temporally with millisecond precision. This is achieved using our double preloading approach. Also, all the visual content can be fixed to visual degree via our innovative display calibration technique. Our browser-based, responsive design ensures that all experiments can run in any browser (Chrome, Firefox, Internet Explorer, Safari) and device typ (Desktop PC, Tablet, Smartphone). Also, each study can also be downloaded and run offline in a lab-based setup, such that the data recording works even without Internet connection.