Variables Overview
Description
In the "Variables" section, all variables of the study are shown in one list, categorized by type. The most important variable properties (Name, Scale, Data Type, Data Format, Is Recorded, is Reset) are displayed. Each variable can be selected such that the variable's properties are shown and can be edited on the right side of the screen. Reviewing / inspecting all variable properties is recommended before publishing the study and starting the data recordings (e.g. check whether all relevant variables are being recorded, etc).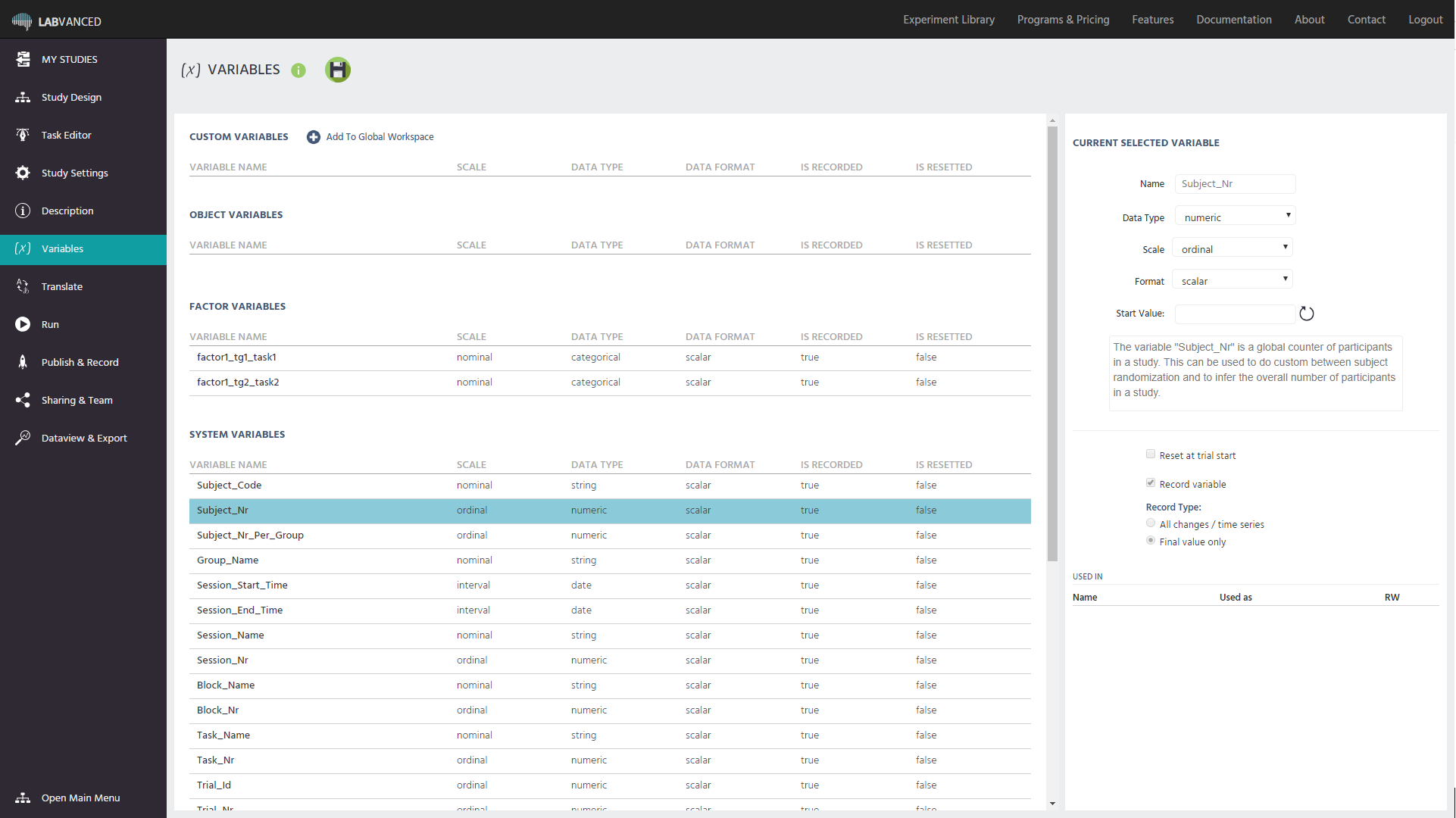 Variable Types
In the Variables overview, the variables are divided by their main type. There are 4 main variable types:
Custom Variables: All of the user created variables.
Object Variables: All variables that were created together with a (questionnaire) object (e.g checkbox, slider etc.)
Factor Variables: All variables that function as factors within trial groups.
System Variables: All automatically created variables (pre-created by Labvanced).
Variables are also categorized by their scope:
Trial Variables: These are variables that are recorded per trial. Typically user-created, some examples include reaction times and participant choices.
Session Variables: These variables are only recorded once per session and are mostly Labvanced-created. Some examples include browser type, screen size, and start/end times of the study.
Subject Variables: These variables are only recorded once per subject and are Labvanced-created. These variables remain the same for the same subject across multiple sessions and include values such as subject ID.
Researchers will typically only look at trial and session variables. Subject variables are useful for longitudinal studies.
Deleting Variables
Deleting variables should be done with extreme care. Before deleting a variable, make sure that this variable is not used anywhere in your study. The variable usages are shown in the variable properties of the currently selected variable on the lower right portion of the screen (you may need to scroll down). While Labvanced tries to update these variable usages, please also check by looking into the different tasks and frames to see whether a variable is really unused or not before deleting it.
If you are not 100% sure that a variable is not being used, it is recommended to disable the recording of the variable. This way, the variable will not appear in the dataview, but there is no risk of damage to your study. Another option is to make a copy of your study (copy all variables and objects, etc.), then delete the variable in question from the COPY of the study and perform a test run. This way, you can see how the study will perform without that variable.
IF A VARIABLE THAT IS STILL USED SOMEWHERE IS DELETED (E.G. IN EVENTS OR OBJECTS) THIS MAY CAUSE IRREVERSIBLE DAMAGE TO YOUR STUDY! Please be careful!